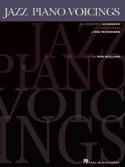 Jazz Piano Voicings: An Essential Resource For Aspiring Jazz Musicians
Rob Mullins author
Publisher: Hal Leonard Corp.


REVIEWS: Seven positive reviews posted by Amazon shoppers. Read Reviews Purchase

Description: Written by Rob Mullins to help beginning, intermediate, and advanced pianists to understand jazz piano chords and the theory of how to make them. Included are exercises for every type of the most essential chords, chord progressions such as the II V I in every key and bass lines to match. A bonus section of chords to the 12 bar Blues Progression appears in every key with a bassline for the left hand.
202 pages of chord voicings for all keyboardists wishing to improve their knowledge of chords and how to make them on their piano or keyboard. Used by Berklee School of Music staff. INTERNATIONAL SHIPPING: YES


Details: Attention is paid to both Swing and Latin Jazz styles for playing bass parts along with chords for musicians doing singles and duo gigs. A handy reference page for each root C, Db, D, etc has the important voicings listed on individual pages for quick look up for chords you don't know in your Real Book or sheet music.

PURCHASE from Amazon Sheetmusicplus INTERNATIONAL SHIPPING: YES
List price: 19.95 USD
"I already had more than 100 books about piano playing, especially jazz and blues.. Rob's book is what got me into the jazz band at Cal State LA. Good going Rob!"

-Tom Heller, Pasadena CA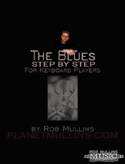 The Blues Step by Step for Keyboard Players-Limited Edition

This material is only available for students signed up for the Rob Mullins Private Lesson Program. Click here for more information.

Learn the Blues from the most simple form to the most complex with audio and notation examples. Take the Blues from Step 1 to Step 12-professional musician status. Book and play along tracks delivered digitally.
Please email us to get instructions on how to sign up.

Listen to sample: "C Jam Blues" (mp3) INTERNATIONAL SHIPPING: NO

Reviews

"This book was the fastest way I've seen for building solos and cool vocabulary for piano playing. I have been working with it for a few months in Rob's student program and I highly recommend it."

-Lee Lontoc, Manhattan Beach CA.