First Duet
Rob Mullins & Jeness
April 10, 2016 EP Release.


First Duet- Rob Mullins & Jeness
RME-DAR2016-1
UPC: 190374535496
ASIN: B01DC4FC94

Notes from Rob Mullins:
In March of 2015, I got a call to join a chamber orchestra for a three week run doing a play in West LA.
When I showed up for the first rehearsal, they put me behind the string section. The cellist had already arrived
before me and she was already set up. She started to warm up with one of the pieces from the show and
she had her back facing me.
What i heard coming from her was the finest cello playing I had ever heard, bar none. I mean, a simple little
melody from a Broadway show suddenly had a whole new meaning. A new context, a new song brough forth
simply from the virtuosity of the musician interpreting the part. Fanstastic! It wasn't until after rehearsal ended that I
had a chance to introduce myself to her and we both spoke briefly and exchanged numbers.

As the show started its run, I gave her a copy of my "Storyteller" album and she really loved it.
We decided to look for an opportunity to play improvisational music together and within a week,
I got an email on the job wire about a film score and I called Jeness to see if she wanted to come create
with me in the studio. She said yes.

I showed up with one song that was to be the title track for the film, a tongue in cheek horror show.
"Nocturne" was a dark waltz that I wrote an hour before going into the studio and I had the pages with me
but no other songs composed in advance.

When we arrived at Big Surprise Studio my plan was for us to get the main title done and see what happened.
We hit it off great with Carmen Grillo recording us and soon began creating other ideas on the spot as
we were instantly at home musically...reading each other's minds and interacting as if we had known each
other all our lives. This, my friends, is how improvisational music should feel. Effortless.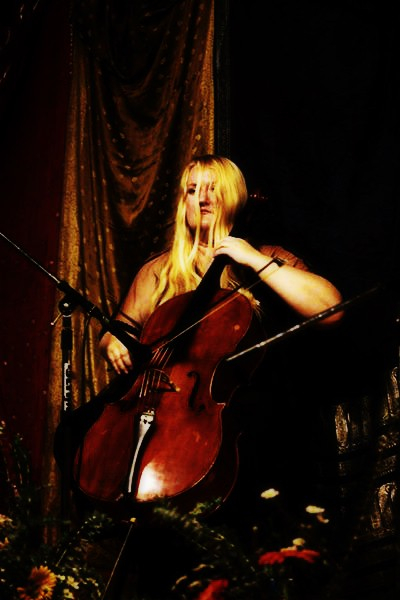 Speaking with her at the session, I was thrilled to find out that she graduated from the Interlochen Arts
Academy as well as the Cleveland Institute of Music. Named "the next great talent" by Janos Starker,
she's performed for U.S. Presidents, Pope John Paul II, Yo Yo Ma, as well as being a staple musician
in the thriving Hollywood orchestral scene.

We did these six tracks on this EP in an hour and then dashed off to other committments looking forward
to working together again.

Some months went by as I got busy with summer concerts and Jeness was touring as well as filling in with
the London Symphony.

In December of last year, I finally had time to start mixing the album and I finished mastering it a couple weeks ago.

Jeness made this beautiful cover and I love it.

Tomorrow on April 10 our first creation together goes out into the world on Amazon, iTunes and many other outlets.
I do hopy you enjoy this improvisational project and it stirs your emotions in ways you didn't think possible.

Happy listening!

Rob Mullins
LA, CA 4/9/16

TRACK LIST
1. Nocturne-02:33
2. Angels in Flight-02:33
3. Sedona Fox-04:53
4. Autumn Reminiscing-03:03
5. Groovy Isolation-05:02
6. Nocturne Twisted-04:16

Personnel
Rob Mullins-piano
Jeness-cello
Recording Engineer-Carmen Grillo
Mixdown Engineer-Rob Mullins
Mastering Engineer-Rob Mullins
Recorded March 27, 2015


All Rights Reserved. Copyright 2016 Rob Mullins Publishing (BMI)
More albums by Rob Mullins