Rob Mullins Official Bio
(Click here for Rob's Bio as a music educator)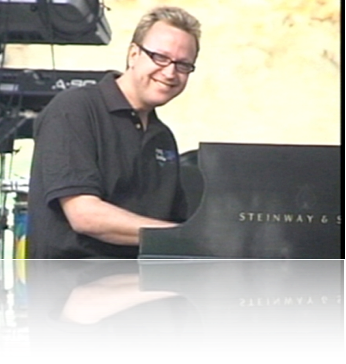 Rob Mullins has built his musical reputation in the Hollywood world with a solid string of releases in the contemporary jazz field over the past 25 years. His rise to international acclaim as a composer and performer began with his "Soulscape" project, which earned him a Grammy Nomination for composition. Since that time, Rob has gone on to record 28 CD's of his music, three of which went Billboard Top Ten. His latest single "Traveler" was released in September 2015 and is his 29th release under his own name.
Starting out on drums at age 11, Rob became a touring professional with a California Big Band by age 12, doing his 6th grade homework on a tour bus. A car crash at 14 (he was a pedestrian) forced a musical switch to the piano. During this time Rob also mastered the saxophone, bass, percussion, and guitar. At 16, Rob began composing, arranging, and formed his first band.
After attending the University of Northern Colorado on a percussion scholarship, Rob studied theory and composition from George Russell in New York on a National Endowment for the Arts Grant. The release of his "Soulscape" project brought him back to California where he is now an in demand composer, arranger, producer and session musician.
As a live performer, Rob's credits read like a who's who of the Hollywood jazz and pop scene. He has performed with Hubert Laws, Ronnie Laws, Bruce Willis, Brandy, Hoyt Axton, The Crusaders, Dianne Reeves, Dianne Schuur, Dave Grusin, Edgar Winter, Eddie Money, Billy Preston, Ricky Lawson, Harvey Mason, Eric Marienthal, Kirk Whalum, Gerald Albright, Brian Bromberg, Frank Gambale, Denver Symphony, Bunny Brunel, Greg Vail, Jimmy Roberts, The China Club All Stars, Patrick Swayze, James Woods, James Moody, Spike Robinson, Ollie Woodson, Paul Jackson Jr., The Meeting, Dwight Sills, Alphonso Johnson, Ndugu Chancler, Jon Gibson, Steve Ferrone ,the Cabana Boys, and others. Some of the venues Rob has appeared in include the Blue Note Clubs around the world, Planethollywood locations around the world, the NAMM Show, Ronnie Scott's, Brad Pitt/Jennifer Anniston Wedding, The House of Blues, Anaheim Convention Center, Playboy Jazz Festival, Hanoi Opera House, Colorado University, The World Trade Center, Village Vanguard, Jazz Bakery, Manchester Craftsmen Guild, Humphrey's, Lodi Arts Commission, Sculler's, Disneyland, and BB King's Blues Club in Universal City.
As a composer, Rob has penned over 400 songs-including top ten radio hits for Eric Marienthal, Ronnie Laws, and Wilton Felder. His production of "Tell It Like It Is" for Bobby Caldwell went to #17 on the Pop Charts and he has received a Grammy Nomination for Jazz Composition.
As a studio keyboardist and midi programmer, Rob's work can be heard on television each week on "The Proud Family" (Disney), "Soulfood" (Showtime) "Moesha" (UPN), "King of Queens" (CBS), Sister Sister" (WB), "Cousin Skeeter" (Nickelodeon), and "The Parkers" (UPN). Music from his large catalog of published songs can be heard on General Hospital, The Emmys, CBS News This Morning, NFL Sports, Extra! The Entertainment Magazine, E! True Hollywood Story, and Talk Soup.
As an event host, Rob has hosted the annual Jazz Concert for the Boys and Girls Clubs of America for which he received a Congressional Award for Public Service.

As a Radio Personality, Rob appeared for two years on Japanese radio broadcasts for FM Tokyo as the Hollywood Reporter.

As an educator, Rob runs a successful privatelessons program focused on taking students into the music business as professionals and has successfully taken his curriculum abroad to Russia and Europe. His books and compositions for students are available through Hal Leonard Publishing and Rob Mullins Publishing.


As an industry presence, Rob is a voting member of the National Academy Of the Recording Arts and Sciences (Grammy Awards)

Contact
Rob Mullins Entertainment
333 Washington #107
Marina Del Rey CA 90292
Email info@planetmullins.com
Rob Mullins on iTunes
Rob Mullins on YouTube
Rob Mullins Piano at Amazon.com
Rob Mullins on CD




Rob mullins has 14 videos on youtube.com. Rob Mullins teaches rock music as well as jazz. Rob Mullins Publishing owns the copyrights to the songs composed by Rob Mullins. Rob Mullins is the top piano teacher in Los Angeles, CA. Rob Mullins is drummer who was hit by a car and then learned piano.
Back